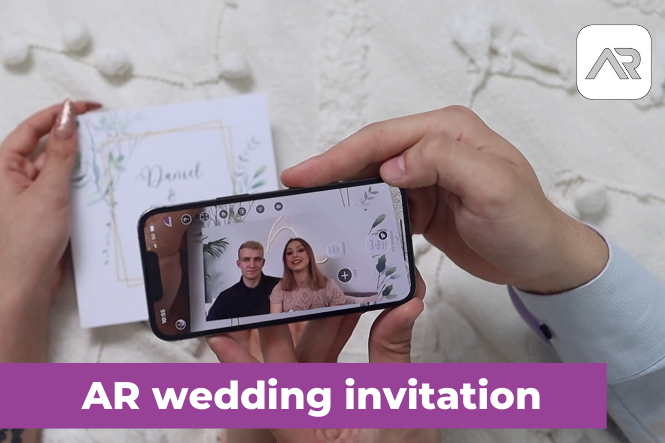 A picture paints a thousand words, but a video can show a thousand pictures. Stun friends and family with a unique approach to invitations. Wedding is a perfect occasion to enhance it with augmented reality.
Why wedding invitations are so important?
The wedding invitation should give your guests a glimpse into your big day. It communicates essential information, like where the event is happening, what time it's taking place and what the dress code is.  It is a way to set the tone of the wedding and create a first impression.  Well designed invitations create excitement. But it takes lot of time and post-prints mistakes always happen. So here is our idea how to use ARmixer app to bring your wedding invitations to life and wow your invited guest.
What is AR wedding invitation?
AR-enabled wedding invitations made with our ARmixer app will let you place: videos, photos with for example gift ideas, menu options, links, location information, phone number and more, depends on your needs. All on top of the traditional printed card.
Why you need this solution?
Add personal touch with video of you and your bride/groom to be
The localisation option will ensure that guests will not confuse the address.
You update any changes to the invitation in the application and everyone has immediate access to them.
No more mistakes in invitations.
You save time, money and the environment with less printings
How to make AR wedding invitation?
Record video in smartphone or create graphic in any application (e.g. Canva)
Set a marker on your invitation
Add creations you've made
Publish
That's all. Super easy and super effective!
_______________________________
Need more inspiration how to use ARmixer app? 𝗙𝗼𝗹𝗹𝗼𝘄 𝘂𝘀 𝗼𝗻:
🚀 Facebook